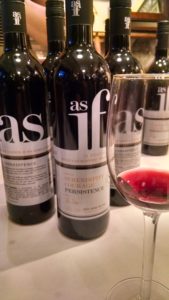 I first met Alie Shaper at a Women for Wine Sense event in February 2010. At the time, the President and Winemaker of Brooklyn Oenology, was four years into her Brooklyn-centric wine brand, which merges New York State agriculture with the vibrancy of New York City culture.
Now, as she celebrates Brooklyn Oenology's tenth anniversary, she has ventured out with an additional range of wines: As If. The three wines that make up the new collection – a white, rosé and red – are respectively called Serendipity, Courage and Persistence and chart her foray into the wine industry. The Cornell alumna kicked off her career with an engineering degree and a military contract in San Jose, CA before returning to New York to start a life in wine.
This new wine line was conceived in 2014 when Alie received unexpected access to great grapes and saw the opportunity to tell her story – both past and present – through wine: from her serendipitous exposure to the world of wine; her courage to follow her passion; and the continued persistence to make her dreams come true.
Greeting me at the As If launch party, Alie explained that she wanted to, "Do something less about Brooklyn and more metaphysical," this time around.
All the wines are labeled as New York State, likely for consistency, but the white and red are technically produced from Nork Fork of Long Island fruit and the grapes for the rosé were sourced from the Finger Lakes.
The As If Serendipity White 2014, New York State, (SRP $35.00) is a blend of 40% Chardonnay, 30% Viognier, 30% Sauvignon Blanc. It is fresh with melon, citrus fruit and apple notes, bright acidity and long length.
As Alie pours the As If Courage Rosé 2014, New York State, (SRP $28.00), she quips, "This is literally liquid courage." The wine brings together 50% Cabernet Franc, 15% Cabernet Sauvignon, 15% Merlot, 10% Syrah and 10% Petit Verdot. It is a deep-colored, dry wine with watermelon, spice and a meatiness/heartiness that make it a good autumn rosé.
Finally, the As If Persistence Red 2014, New York State (SRP $40.00), with 60% Cabernet Franc, 25% Petit Verdot, and 15% Cabernet Sauvignon was my favorite of the three, so I was not surprised when Alie revealed that the Cab Franc came from Macari, one of my favorite Franc producers. This stunning wine displayed complex aromas and flavors of toast, berries, and dried herbs, along with good acidity and long length.
The wines are available for purchase through Brooklyn Oenology.